Background on the webmaster of this site
---
KAKE-TV 1500 North West Street - Wichita, Kansas

This photo of Wichita's ABC affiliate was taken in the summer of 1960. I began my television career 9 years later in 1969 at age 19 at KAKE while attending Wichita State University. The ABC network began limited color programming in 1962 with weekly color broadcasts consisting only of the immensly popular cartoon "The Flintstones" and later another animated program, "The Jetsons." KAKE did not have color transmission facilities at that time however. The color signals from the network feeds never reached Wichita viewers until the fall of 1965 when ABC and CBS finally joined NBC to become "full color" networks. During the black and white days at KAKE, the master conrol engineers occasionally forgot to block out ABC's version of the NBC peacock which announced "the following program is an ABC color presentation," a false promise to Wichita viewers whose color TV's only blossomed when tuned to NBC's KARD-TV. Wichita's CBS affiliate KTVH was also mired in black and white.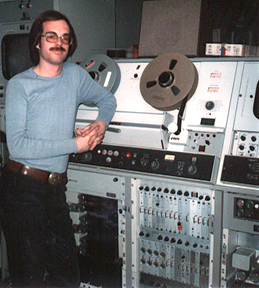 Yours truly, Kris Trexler, at the helm of an Ampex VR 2000 VTR
KCOP-TV Hollywood, California (1972)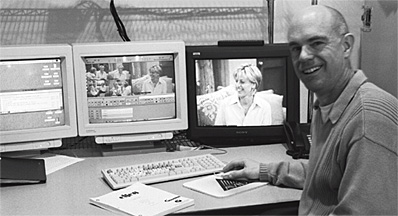 That's me again, editing the "Ellen" series for the Walt Disney Studios and ABC television on an Avid Media Composer.
Look Ma! No more videotape - and no more hair either! (April 1997)

comments? send me an email
---
Click the 1958 Cadillac to check out my

King of the Road Home Page
and see my classic cars.