VIDEO AND AUDIO GOODIES

Video clips on this site require QuickTime 4
Click here for simple instructions on how to download QuickTime 4 for Macintosh and Windows 95 & NT. It's FREE! Replace your old version of QuickTime and take advantages of QuickTime 4's many new features.

Audio clips are available in both tiff and wave formats. QuickTime 4 can play either format on Macintosh or Windows 95/NT. If you do not wish to download and install QuickTime 4, select the file format that works on your computer (most Mac's play .aiff files, most Windows PC's play .wav files, some play both).
---
EV1 related TV commercials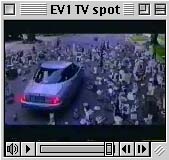 View the QuickTime movie of the incredible 90 second EV1 TV commercial produced by Hal Riney Partners and Industrial Light and Magic.

Viewing the movie requires the new QuickTime 4 software available FREE from Apple Computer. Follow the instructions for downloading QuickTime 4 and installing it on your Macintosh or Windows PC. You'll want it sooner or later, so download now and enjoy the commercial and other video clips on this site!
---
EV1 in motion - interior and exterior video clips



View this brief clip that shows the EV1 starting procedure, bootup "light show" on the upper dashboard, and instrument panel. Hear the unique sound as we accelerate to 40 mph. Requires QuickTime 4.
---
EV1 in motion - audio clips (in .aif and .wav audio formats - identical content)


Exterior audio as an EV1 drives past at 35 mph - aiff audio file
Exterior audio as an EV1 drives past at 35 mph - wave audio file





Interior audio as an EV1 accelerates to 40 mph - aiff audio file
Interior audio as an EV1 accelerates to 40 mph - wave audio file


---
EV1 RELATED PUBLICATION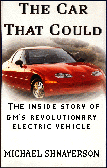 Michael Shnayerson's fascinating book about the development of the GM's EV1. Reads like
a novel! Learn about the EV1's perilous journey from dream to production reality.


Read Business Week's review of the book.

Business Week's reprint of Chapter 2 of the book

Order the book from amazon.com or Barnes & Noble ($17.50 from either source)





---
LINKS TO EV1 RELATED WEBSITES
There are many sources of information about the EV1 and electric vehicles on the internet.
Here are links to a few websites...

The EV1 Club was founded in Los Angeles a few months after the EV1 was introduced. The club conducts monthly meetings and publishes a monthly newsletter "21c Test Pilot." The website is very informative, and has detailed information about public charging stations, links to other EV1 related websites. Included are photos of the GM factory that builds the EV1, the Lansing Craft Centre in Lansing, Michigan.
The Los Angeles Department of Water and Power (LADWP) is helping lead the effort to make Los Angeles "electric vehicle-ready" through the development and support of an advanced electric transportation industry. The LADWP is committed to creating such the infrastructure necessary to support electric vehicles, making Los Angeles a cutting-edge "EV-friendly" city. Thanks to the LADWP for hosting the kickoff ceremony for Charge Across America at their downtown Los Angeles headquarters on May 12.

EV World online is a great source for advanced technology vehicle news, interviews and previews. Includes full coverage of GM's upcoming advanced technology vehicles with in-depth reporting and RealVideo clips.
Check out these PERSONAL websites that EV1 enthusiasts have established:
EV Odyssey EV1 enthusiasts Greg Hanssen and C.E. Raum are driving their EV1's from coast-to-coast in November 1999.
Dave and Jean Kodama have their own "EV1 Chronicles" in addition to maintaining the EV1 Club's site. They have the special distinction of being the FIRST household to have two EV1's! Read why they decided to lease a second EV1.
Brett Dewey took delivery of his green EV1 in June 1997. Check out his "Owner's Perspective."
Chris Yoder is an electric vehicle enthusiast who drives an EV1 and has a Honda CRX EV conversion.
Michael Monti provides EV1 charging facilities at his popular Phoenix-area restaurant.