DAY 15
5/26/98

---
Overland Park, Kansas (Kansas City) to Columbia, Missouri
Total Miles: 163

Progress Maps: Close Detail | USA View
---
| | |
| --- | --- |
| | |
After a pleasant night's stay at the Radisson Hotel, Overland Park Health and Environment Administrator Joe Reed picked me up in the city's electric Ranger pickup truck. The automotive shop at Shawnee Mission West high school did a commendable job of converting the former gasoline-powered truck to electric propulsion. Even though I've been driving my EV1 for well over a year, the silent power of an electric vehicle is always impressive. The truck had ample power, although the manual transmission was quite different from the EV1's direct drive setup. Joe dropped me off at City Hall where my car spent the night while charging in Overland Park's "electric vehicle only" parking space. A permanently installed 220 volt charging terminal provided power for my MagneCharger. After a quick tour of City Hall and a chance to meet city officials, I was on my way to Columbia.


| | |
| --- | --- |
| | I had hoped to photograph my EV1 at every state border crossing, but since Kansas and Missouri are separated by the Missouri river in the Kansas City area, I was unable to stop on the busy freeway for a photograph. I decided that a Missouri highway sign would have to suffice. Kansas City traffic seemed every bit as nasty as infamous L.A., and a dingy pall of haze hung over the city as I passed through it. Several local residents had told me that air "inversion" warnings with adverse health concerns are becoming increasing more frequent here. Once again, I see and smell an ugly reminder that all big cities need zero emission vehicles like the EV1. Hopefully they'll be available here in the not too distant future. Since my EV1 was fully charged and I had no activities planned in Kansas City proper, I drove right through connecting from Interstate 35 northbound to I-70 eastbound. |
| | |
| --- | --- |
| | |
| Saturn of Blue Springs | Bob McKenzie's Motorwerks Int'l |
Shortly after leaving the city, I noticed a Saturn dealer on the south side of the road in suburban Blue Springs, Missouri. I decided to pay them an impromptu visit. Everyone at the dealership including employees and customers rushed outside to see my EV1. Saturn salesman Dick Yocum invited me to charge up using my small 110 volt charger. Although not many miles would be gained during my short stay, I accepted Dicks's offer. Repair Technician Bob McKenzie had been looking forward to seeing an EV1 for a long time, and was astounded at the elegant sophistication of the car. Bob maintains his own business as well, a repair shop for foreign cars. Although I hadn't planned on stopping in Blue Springs to charge, I accepted his invitation to stay a few minutes and utilize 220 volt service at his nearby shop. Meanwhile, the helpful folks at the Saturn store arranged 220 volt service for my next scheduled Missouri stop, Sweet Springs. Since I hadn't had any luck prearranging a charging source there, I gratefully accepted the offer of help.

When I was planning my trip a few weeks earlier in Los Angeles, I telephoned a local resident who claimed to be familiar with I-70 in Missouri. He assured me that the terrain was "flat as a pancake," and I plotted my EV1's charging intervals accordingly. Today I found out that this part of Missouri was anything but flat. In fact, the road passed over one hill after another, some fairly significant. Based on a fairly flat road surface, I had felt that the 73 mile distance between Overland Park and Sweet Springs would be well within the EV1's range on one charge, but the non-stop hills I was encountering made me glad that I had accepted the offers to do an interim charge in Blue Springs. I arrived in Sweet Springs with 2 of 11 bars remaining on the charge indicator. I doubt that I would have made it to Sweet Springs without that interim charge - good fortune seemed to be with me today! For now...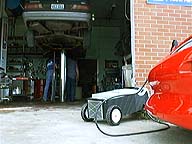 The Saturn store called ahead to Sweet Springs and arranged for a 220 volt power source at Advance Transmissions. Dave Carroll and owner Hal Miller gladly allowed me to use their 220 volt receptacle. Being transmission repair specialists, they naturally asked me about the EV1's transmission. I was sorry to inform them that the EV1 has no transmission - they'd never see one of these babies in their shop for repair. The charging seemed to be going along fine, so I decided to pass the time and beat the sultry heat by walking a short distance to a neighboring convenience store for a cold drink. I took my laptop computer with me in order to catch up on updating my website. I returned to the transmission shop just before the 5:00 pm closing time to pack up the charger and resume my trip east to Columbia. I immediately noticed that the charger indicator was blank. Under normal conditions, the unit displays charging status. Unfortunately, I discovered the transmission shop's circuit breaker had tripped 58% into the charging process. I was expecting to receive at least an 85% charge. The 6.6 kilowatt MagneCharger never consumes more than 29.5 amps, so the shop's breaker may have been defective or the rural location may have been a long distance from a power pole transformer, resulting in marginal voltage. Since the shop was closing up, I realized I would have to find another source of 220 volt power within 40 miles or so, because the hills on I-70 would not allow me to reach Columbia 63 miles to the east with only a 58% charge.

Fortunately, I spotted Mel's Truck Repair Service after driving only 8 miles. I exited I-70 and asked owner Mike Gerlt if he could help me with a 220 volt outlet. Mike was obviously very excited that I had stopped, as he had read about the EV1 in Popular Science but never thought he'd ever see one. Within a couple of minutes, I was hooked up to his 50 amp welding circuit. After 40 minutes, the charge was up to 81% which I assumed would be sufficient to get me to Columbia. I packed up and headed east on I-70.
The Missouri River loops its way through the state, and I crossed it for the second time west of Columbia. Even taller hills loomed on the road ahead, but I felt fairly confident that I would have more than enough charge to drive my EV1 to Columbia with power to spare.
I ended up wishing I'd visited with the guys at Mel's Truck Repair in Sweet Springs a few minutes longer and obtained more than an 81% charge, because I arrived in Columbia with only 1 mile range remaining. Talk about a close call! So much for that bad advice about Missouri's "flat as a pancake" interstate highway! My number one goal on this trip was to "never run out of charge" and I had almost blown it. I wouldn't take a foolish chance like that again. I was greeted in Columbia by local news media who patiently waited for me to arrive. The bad circuit breaker in Sweet Springs had caused a one hour delay, but the curious reporters were glad to have an opportunity to see the EV1 and let the community know about my adventure.

The Super 8 Motel in Columbia didn't have a source of 220 volt power for my big charger, so I was forced to charge my nearly empty EV1 with the slower 110 volt "convenience charger." Although I would hopefully have a sufficient charge by morning, Columbia Daily Tribune photographer Mike Stewart offered to let me drive to his nearby farm where I could use his 220 volt outlet. I accepted Mike's gracious offer - I continued to be amazed how my EV1 continued to receive offers of support everywhere I traveled. With the big charger humming away at Mike's home, Tribune reporter Leslie Wright dropped me off at the motel. We agreed that she'd pick me up at 6:30 am so she could interview me for the newspaper and Mike would have a chance to photograph the car by early morning light in the rural setting near his farm. It sounded like a good plan, but yet another glitch would surprise me tomorrow morning.
---
Trip Log
Departure
Point

Charging
Stop #1

Charging
Stop #2

Charging
Stop #3

Charging
Stop #4

Town or City

Overland Park, KS

Blue Springs, MO

Sweet Springs, MO

Sweet Springs, MO

Columbia, MO

Elevation

1000

Odometer

16591

16628

16676

16685

16748

Trip Odometer

0

37.0

46.6

8.3

63.0

Driving Notes

-

Stopped off at Saturn of Blue Springs to show the EV1. Charged 45 minutes on 110v charger (no 220v service available). Mechanic offered 220v service at alternate location. Charged for 45 minutes with 220v

Charged for 90 minutes. Didn't notice that circuit breaker in suppliers panel had tripped at 58% charge. Packed up and resumed charging at an alternate location (see next Sweet Springs entry)

Resumed charging at new Sweet Springs location.

Charged for 2 hours using 110v charger @ motel. Photographer offered 220v service at his farm. Drove to farm and resumed charging using 220v service.

Grades Encountered

-

Rolling hills

Many rolling hills

-

Many, many, many rolling hills!

Charging Information

Charge Start Time

Overnight

-

3:35 PM

5:25 PM

-

Charge End Time

-

-

5:05 PM

6:05 PM

-

Charge Duration

1h 30m

0h 40m

Charging Facility

Overland Park City Hall

see driving notes

Advanced Transmissions

Mel's Truck Service

Stewart residence

Contact Name

Joe Reed

Dick Yocum/Bob McKenzie

Dave Carroll/Hal Miller

Mike Gerlt

Mike Stewart

Charger Type

6.6kw/240v

6.6kw/240v

6.6kw/240v

Charge Indicator
(In Bars/11=100%)

11

-

2 start/7 finish

6 start/10 finish

1 start/11 finish

Charge Start (%)

13

49

3

Charge Stop (%)

100

58

81

Ambient Temp (°F)
Weather Conditions

-

-

-

-

-

Approx. Miles to Next Charging Stop
and Known Grades

37 miles - rolling hills

46 miles - rolling hills

9 miles (see driving notes above)

-

68 miles - a few rolling hills + one large hill - Minneola
---
BACK to Daily Diary HOME page